Our Elementary Kids program exists to provide safe, nurturing, and engaging environments where kids discover God!
We value each and every child and celebrate how unique God created them to be.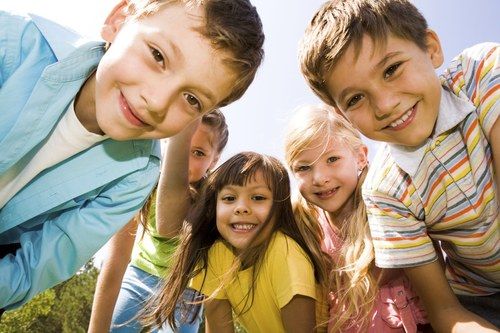 Join us in person on Sundays at 8:45 and 10:30 for an interactive Bible lesson.
If you are unavailable to meet in person, resources for teaching the lessons are available here each week.
They are also emailed to the parents, so if you would like to be added to the mailing list, please
contact Lauryn Longoria.
Watch our most recent online video lesson.
Elementary Kids Celebration | 1st- 4th Grade
Kids will experience fun and exciting games, hear the message of the gospel spanning across the entire Bible in engaging ways, and be able to receive a greater appreciation for the Word of God. This is an excellent way for kids to see the Big Story of Redemption as a thread that God has woven throughout the Scripture.

Also, join Miss Becky and the team for a digital lesson each week that mirrors the Sunday morning message. It is designed for those who want to go deeper or can not attend Sunday morning physically. It will be filled with worship, interactive story telling, and fun games and activities focused on digging in to God's Word. This experience seeks to encourage children in their relationship with Christ while building relationships with leaders and friends.
Leader: Lauryn Longoria
56 | 5th & 6th Grades
This is a high energy setting for preteens with godly leaders who love working with kids and leading them to Christ through Bible study, thoughtful discussion, engaging games, intentional relationship building time, student leadership, and more. Preteens are placed into age/gender based groups with leaders who stay with them for the two years they are in 56. Mentoring is the focus of these leaders as they get to know and interact with the kids. We love leading 5th and 6th graders into a relationship with Jesus!
If you have any questions about 56, feel free to contact 56 Coordinator, Matt Noble
Brave Hearts for Girls | K – 6th Grade
2nd & 4th Saturdays 11:30 - 1:00 PM (NOT MEETING FOR THE SUMMER)
TeWinkle Park NE Gazebo near playground
Brave Hearts is a small group for girls and their moms. In this scouting merit-based group, girls will grow in their faith, Bible knowledge, and life skills – all while being active and having fun. Some activities include: marshmallow fun night, hiking, cycling, camping, Rawhide Ranch, and Pinewood Derby Race. This group compliments the boys Royal Rangers program. The cost for the Brave Hearts program is $25 September- May 22. Then $25 for February-June. The fees include BH t-shirt, crafts and monthly activities. Girls - Kindergarten through 6th grade are welcome!
Coordinator: Gwen Blankenship 714.222.2699
Royal Rangers for Boys | K - 12th Grade
Sundays, 4-5:30 PM
Zoom Group with monthly physical gatherings (NOT MEETING FOR THE SUMMER)
Royal Rangers is a mentoring ministry for future men, providing Christ-like character formation and servant leadership development for boys and young men in a mentored and fun environment. The Royal Ranger mission is to evangelize, equip, and empower the next generation of Christ-like men and lifelong servant leaders. The cost for the Royal Rangers program is $30 per season (Fall, Spring, Summer) You can pay the full amount up-front or pay $30 at the beginning of each season.
If you have questions or need assistance, please reach out to the coordinators.
We're here for you!

Brittany Dalafu
, Next Gen Pastor

Lauryn Longoria
, Early Elementary Coordinator

Matt Noble
, Upper Elementary Coordinator
If you have questions about any of our Elementary Kids programs, please contact Lauryn Longoria, Early Elementary Coordinator
.